The International Zava Damdin (b1867- )150th Anniversary Scientific Conference took place on 26–30 July 2017 at Delgeruun Choira Monastery in Dundgovi Aimag, Mongolia. It was convened by the Zava Damdin Scripture and Sutra Institute in collaboration with the Mongolian Academy of Sciences.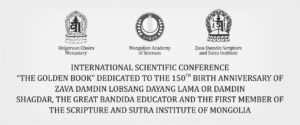 Background: The Mongol hermit-scholar-poet Lobsang Dayang Zava Damdin took rebirth on 7 February 1867 (Year of the Rabbit) at Dartsagtin Tsagaan Khad of Delgertsogt Sum (Dundgovi Aimag) in Mongolia's Gobi Desert.
The 2017 conference, the second such conference after the cessation of Soviet-socialist communism in now democratic Mongolia, once again provided the opportunity for scholars from around the world to come together and present research to their peers on a range of topics related to Zava Damdin. Papers and other presentations came from a range of academic fields and their various epistemological grounding and perspectives.
The Zava Damdin 140th Anniversary Conference in Ulaanbaatar, Mongolia
The last time this important international conference was convened was a decade ago, in September 2007. This was the first time such a conference of Buddhist Studies academics had been held since the cessation of soviet socialism in Mongolia in 1990.
The Mongolian names for 'Buddha'  are 'Sanjaa' or 'Burkhan Bagsh; in Tib. sangs-rgyas. Below are some of the photographs I took at that socially and culturally ground-breaking event.
end of transcript.
Written by C.Pleteshner, Research Fellow, Nomadic and Buddhist Philosophies for The Zava Damdin Institute of Mongolia.
See the INDEX to my blog for other articles that may be of interest.
© 2013-2022. CP in Mongolia. This post is licensed under the Creative Commons Attribution 4.0 International License. Documents linked from this page may be subject to other restrictions. Posted: 8 February 2017. Last updated: 20 June 2022.